Leaving Arequipa, we took a bus up to Chivay, a town just upstream of Colca Canyon. We had thought we might travel further up past Chivay the next day and do a hike/overnight down into the canyon, but we were still pretty exhausted from our Andes trek near Machu Picchu, and decided to instead relax a bit in Chivay. We also learned that the section of the canyon you can access hiking is not nearly as deep as the deepest sections that make it unique.
So instead, we roamed a bit in the area around town, explored some old igloo-like rock structures built centuries ago as way-places to stay for travelers, and enjoyed a beautiful hot springs facility with many pools. We stayed in a small hostel run by a man who runs tourist trips in the region – a very interesting man to talk with, and he had a super-cute kitten.
The next day, we walked around the marketplace a bit and enjoyed fresh papaya juice and alpaca meat cooked by street vendors. It was delicious, but perhaps not the best decision, seeing as I got sick the next day.
With several hours until we needed to catch our bus back to Arequipa, we decided to explore the area a bit and rented mountain bikes. We set out on a loop around through several nearby towns. Not a long loop, maybe only about 12 miles, but Chivay sits at about 12,000′ elevation, so even the smallest hill is enough to get winded. We decided part-way to split off of the roads we were following and take a hiking/mountain biking path. This was much harder, especially for me, but also more rewarding.
We passed many places where there were terraces built into the hillsides, originating hundreds of years earlier in Incan times. There were also a few old Incan ruins sites along our route. We also had clear views out to some of the nearby very tall (18,000'+) volcanoes, one of which was currently erupting (smoke and ash clouds).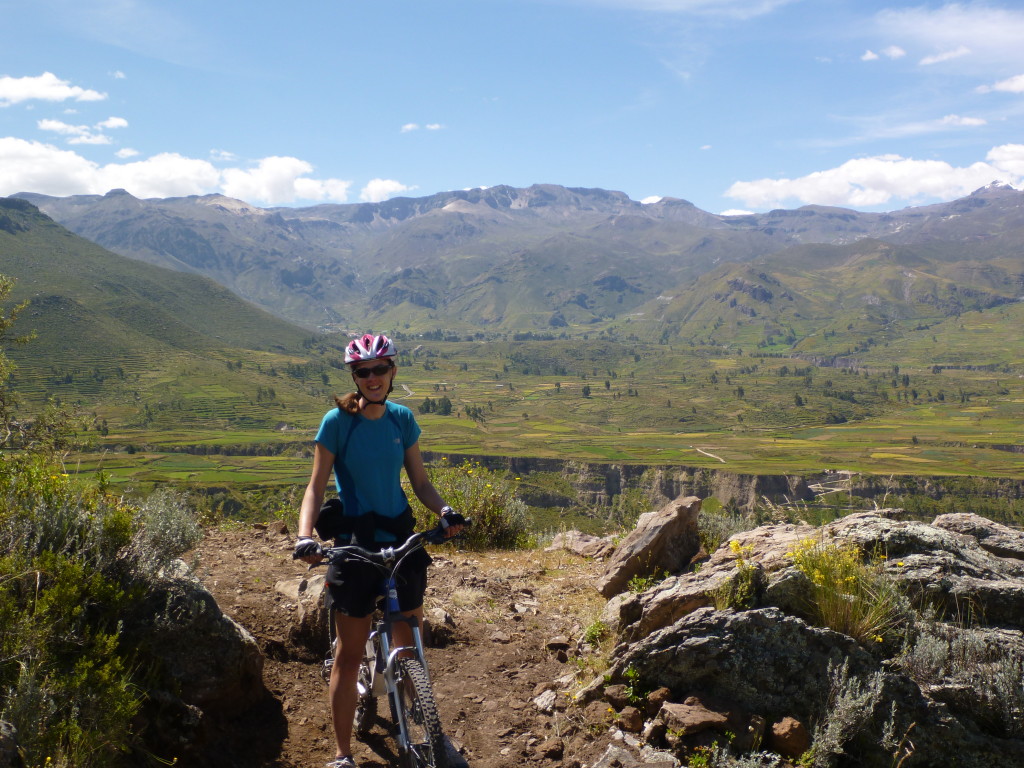 Taking the single track took longer than we expected, and we had to book it back into Chivay to catch our bus. Not easy to do at high elevation!
The bus ride back was interesting. On the way out, we'd passed most of the ride in the dark, so couldn't see much, but enjoyed talking with a Canadian couple who were doing the same thing we were. On our way back, we sat next to the same couple again and enjoyed trading adventures from the last couple of days.
The road between Chivay and Arequipa goes over some REALLY high land. In that bus, we got to the highest elevation we have ever been (topping the hike the week before) at over 16,000′. From the top, which is a broad plain, you can look out and see El Misti and several other volcanoes which are close to 20,000′ elevation. Crazy high. We also passed a pack of camelids – alpacas, llamas, and others, crossing the road. Our guidebook said you could find 3 of the 4 South American camelid species here, the fourth being the Guanacos we had seen in Torres del Paine.